The Season Pass is an access pass to the Season Rewards System, held from time as an effort to introduce players to exclusive skins and prizes.
To view the Season Pass, click on the
button located at the bottom of the screen.
FREQUENTLY ASKED QUESTIONS (FAQ)
How long does one Season Pass last?
A Season Pass usually lasts for a few months from the date of commencement.


How do I get a Season Pass?
A Season Pass comes in both Free and Paid options. Everybody receives the Free Pass but the Season Pass can be purchased separately by clicking on the "Season Pass Purchase" button.

What is the difference between the Free Pass and Season Pass?
As a Free Pass user, the only limitation is the type and lesser amount of rewards you receive from increasing the Season Rank. Season Pass users enjoy more premium contents each time they level up their Season Rank.
In addition, Season Pass users are entitled to the Free Pass rewards.
What do I get from a Season Pass?
You receive access to an exclusive Season rewards list which unlocks on every rank level, plus extra daily and weekly missions for a quicker completion.


How do I level up the Season Rank?
By participating in game matches (any mode) as well as both ongoing events, and daily and weekly missions, you gain Season Badges that help increase the Season Rank. Think of Season Badges as experience points.
Alternatively, you can purchase Season Ranks if you do not have enough time to level up.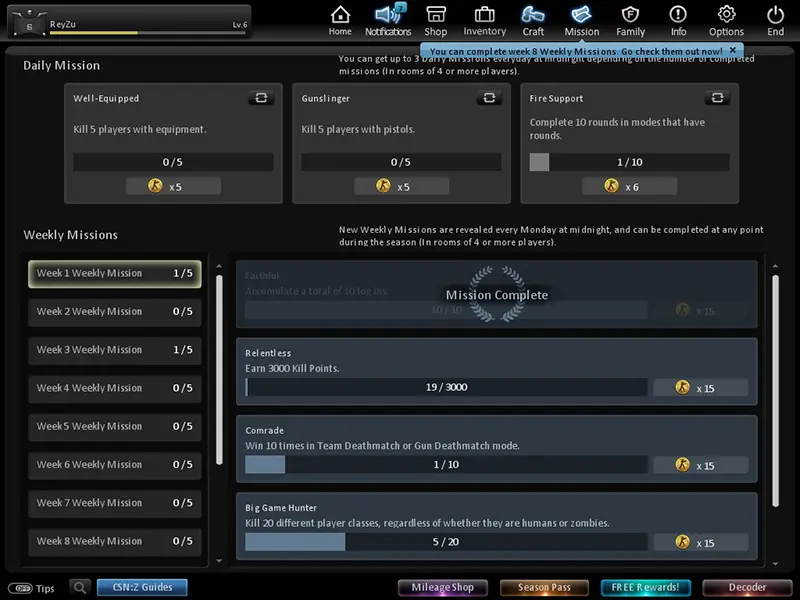 How many ranks are there in every Season?
There are a total of 60 ranks.


Can I purchase a Season Pass in the midst of a season?
Yes, and all rewards associated with the Season Rank during the purchase. For example, if your Free Pass Rank was at 15, you will receive all rewards of the Season Pass up to that level.


What happens once the season ends?
Your Season Rank resets back to 1 and all Season Badges disappear.


Are the rewards same every time a new Season appears?
Most of them are not, so don't miss out!