LOBBY/ HOME
This is the first screen whenever the game opens. Check out the latest notices and active events that are taking place, along with their progresses.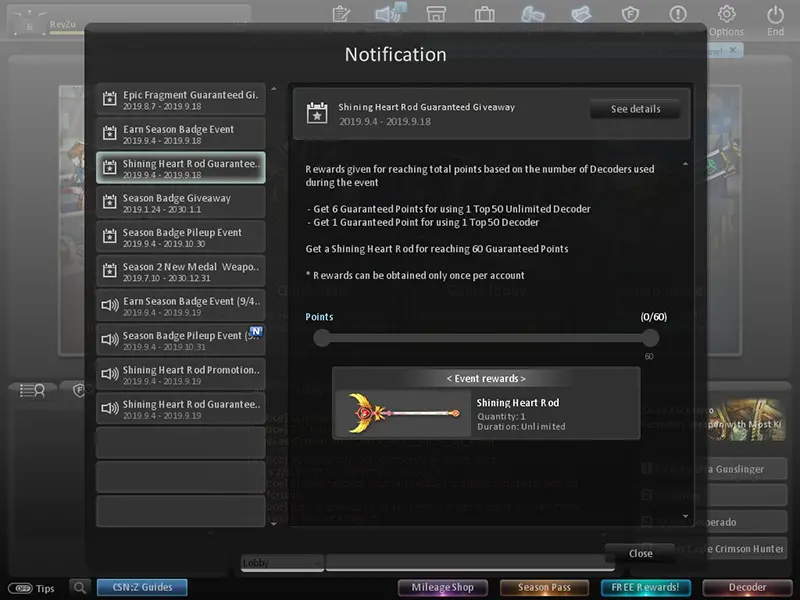 Claim rewards for logging in daily. You can only do this once a day, and by logging in consecutively, receive additional ones up to 4 times until the next reset.
Rewards change from time to time, so don't miss out. For example, by missing out on the second (2nd) day of attendance when the server resets at 12:00am local time, the third (3rd) day prize will become claimable.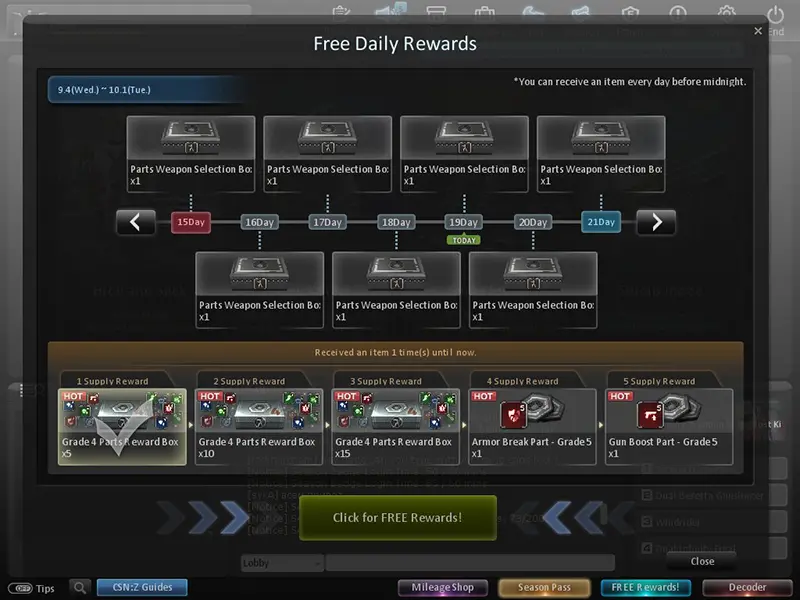 Over here, everything is directly accessible. Join a game, chat with other players in the lobby, join any active events, manage friends list, and so forth.
Looking for an old-style game lobby? Simply click on 'Game Lobby' and enjoy the nostalgia. With the traditional setting, feel free to scroll through the room list and filter them by room names, game modes, number of players, and so forth.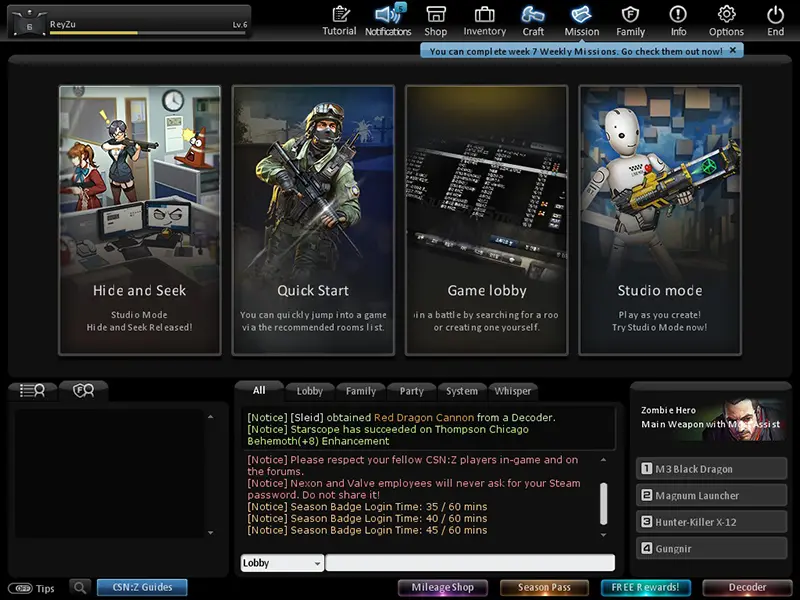 PROFILE SUMMARY
Check out your profile overview such as KAD ratio, total points accumulated and mannerism level. 
The mannerism level determines how a player is perceived by others based on a (hidden) rating system. A poorly-mannered player might not be able to join rooms restricted to only higher-rated ones.
In addition, a VIP membership symbolizes the amount of cash a player has spent on the game. Spending more increases the membership rank progress which in return, gives out higher quality rewards and rebates. The progress is updated after the end of each month.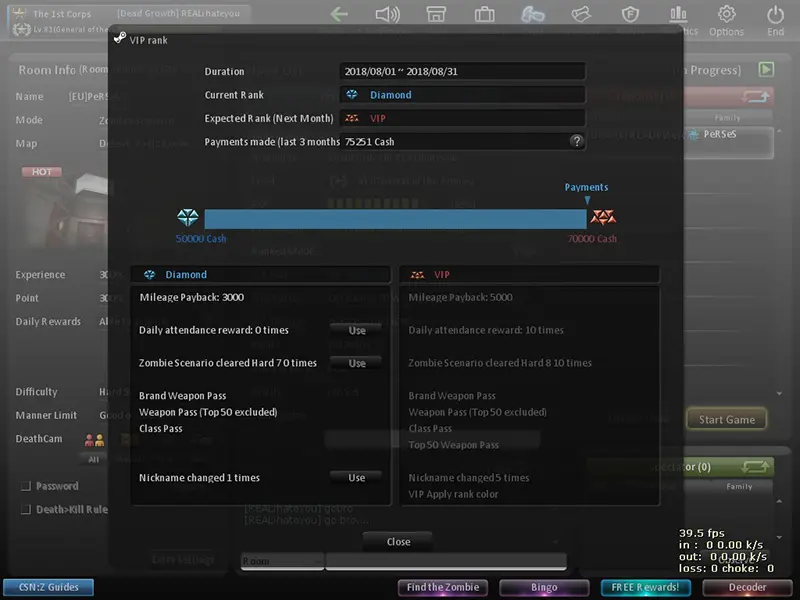 Take note that the progress decreases once the user stops spending or fails to achieve the targeted payment criteria.
SHOP
Buy weapons, classes, decoders and enhancement items with either in-game points or cash, or gift them to other players with the gifting option.
If you have coupon boxes or codes from events, enter them here.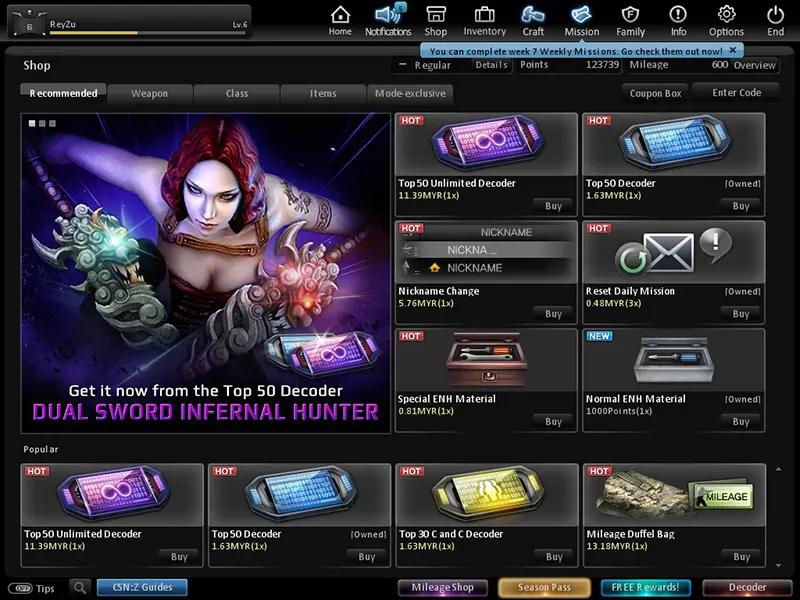 Remember the VIP status from the Profile Summary tab? The full benefits are available when you click on the Details button located beside the Points balance. The higher the level, the better the benefits or payback. 
As mentioned earlier, spending cash is required to maintain your rank!
ASSEMBLY/ CRAFTING
Are your weapons not strong enough? Time to enhance their performance! Enhancement kits are required, which are earned from events or bought in store.
Besides that, weapons are paintable and can be disassembled for crafting components. To learn more about Crafting, click here!
FAMILY/ CLAN
Just like joining gangs, families allow players to complete missions, share weapons with one another, post announcements, and earn additional experience and game points.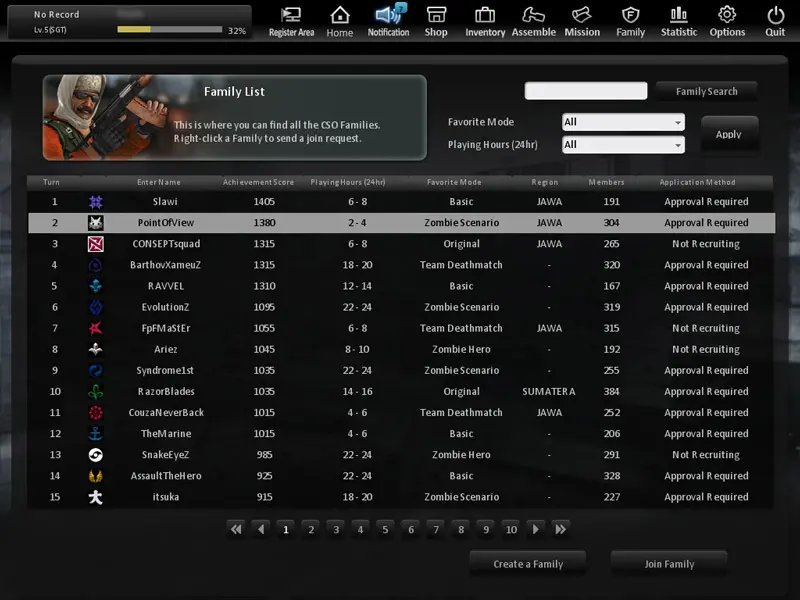 Being in a family also unlocks additional family-exclusive medals and titles.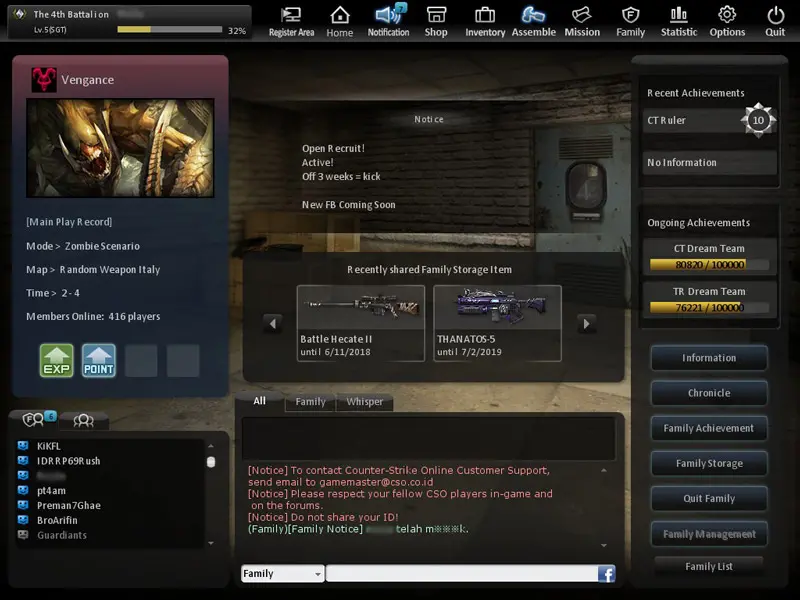 Through family management, a leader has the authority to appoint both seniors and leader-to-be.
The Information screen is split into three categories:
MODES
Discover your profile in detail right here. Dig out interesting statistics such as the total amount of damage dealt with melee weapons, or how many zombie kills were made since your account was created.
RANKING
Curious on what are the hottest trends among players? Find out the all-time game modes, along with their respective maps and weapons of choices! Results can be filtered by the day, week or month.
ENCYCLOPEDIA
Expand your knowledge about the Counter-Strike Online universe. The only Counter-Strike with unimaginable contents, it is easy to be overwhelmed or lost, especially for newbies.
What makes it so crazy, yet interesting? After more than 10 years in development, the Encyclopedia helps by introducing what every character, game mode and weapon is all about.
Right-click on a selection to find out more about it. Everything is graded and rated indivually, with recommendations from players and statistics recorded by Nexon over time.